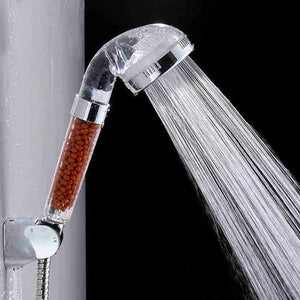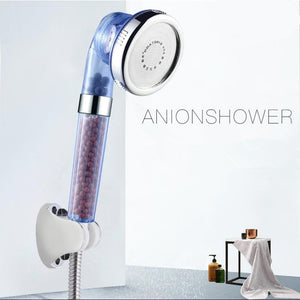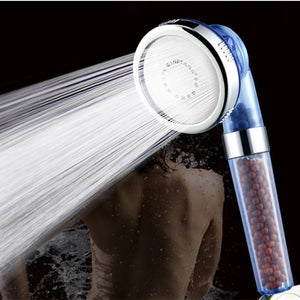 New Negative Ion Shower Head
Regular price
$79.99
Sale price
$28.97
Buy 2 Get 5% OFF And Free Shipping
---
2+       10% OFF
4+       15% OFF
6+       18% OFF
Check VitaShower in action on the video below
Toxic Showers, High Water Bills & Low Pressure! A New Shower Head That Addresses These Issues And More Is Ruling The Market, And We Tested It!
This new shower is being pointed out as the device of the century to have healthy, economic and relaxing showers! If you never heard about it, keep reading and change your shower experience!
If you've ever felt:
Dry skin and hair after your morning shower
Tired and lethargic after taking a shower
Frustrated with 'random' health symptoms
Concerned about how fast you're aging

 

...your health may be compromised every single day when you step in and out of your shower.
Here's the truth:
Most people take their morning shower without thinking twice about a potential health hazard that can lead to premature aging, throat issues, heart disease, respiratory complications and more.
Here's why:
Shower water is chemically treated, and it is not unusual to find dangerously high levels of chlorine content in it.
High Chlorine Levels Are Toxic and Cause Damage To Your Skin, Hair and Overall Well Being.
In fact, a recent scientific breakthrough study revealed 50% of chlorine exposure happens in the shower*.
Because your skin is permeable, this means chlorine is actually getting into your bloodstream — while the rest is inhaled by the lungs through the vaporization process.
Dr. Robert Ballas, a well-known dermatologist noticed many of his patients would come in with terrible skin issues and undiagnosed health symptoms.
They were aging faster, even while they were doing all the 'right' things.
He knew something was off and was determined to fix it.
After years of research into the dangerous toxins found in shower water, he realized his patients were ingesting harmful toxins every single morning —without knowing it!
That's when he decided to take matters into his own hands and create an all-in-one, simple solution called the VitaShower
Introducing the VitaShower —Tested and Proven to Eliminate 98% of Toxins Found In Your Shower.
The VitaShower was developed by a team of engineers and scientists to eliminate 98% of chlorine in your shower water, giving you the peace of mind that comes with clean, healthy water.
But that's not all: VitaShower also increases your water pressure up to 200% compared to normal shower heads.
This means you not only get the health benefits and peace of mind knowing you're not flooding your body with nasty chemicals:
You'll reduce the usage and cost of your monthly water bill, too!
Revolutionary Technology That Heals, Soothes and Relaxes.
Every part of the VitaShower was designed with your health and relaxation in mind.
The little spheres in our design use ionic technology — with each of the sets of filtering spheresbalancing the pH level, eliminating dirt and chemical disinfectants and ensuring clean, healthy water you can trust.
With the purifying effects of the three integrated spheres, VitaShower will help you restore the balance of your body, leaving your hair and skin soft to the touch.
Like any unforgettable hotel shower, VitaShower comes with 3 fantastic shower modes: a massage mode, which will make you leave the shower ultra-relaxed, a jet mode, which will improve your blood flow, and a shower mode, for a pleasant and relaxing shower.
Who uses it wonder how they ever lived without it. Our housewife Jessica C. only have compliments to it:
"Our shower here at home was leaking at all sides, the pressure was really low. And no matter how hot the water was, I kept feeling cold. The VitaShower was a great choice, it was easy to install, the water flow is stronger, and the shower is now so pleasing and relaxing."
How VitaShower Works: Simple, Easy & Effective.
VitaShower is universal and ready to install in any shower in 2 simple steps anyone can do:
(1) Remove your old shower
(2) Screw the

VitaShower
In less than one minute it will be ready to provide the best shower you ever had, without the high costs associated with long showers.
So what is the difference between a regular shower head and VitaShower?
With all the features and benefits that we showed about VitaShower, we believe that this answer is pretty obvious. But here are some more interesting facts about common shower heads that you must know:
Bacteria and fungus forms inside
Don't eliminate water chemicals
Water pressure is usually low
Don't leave skin and hair soft and radiant
Don't economize water
Don't prevent skin irritation, hair loss and dangerous diseases
Remember: a good shower head can avoid serious problems in the future. We hope you make the right choice because VitaShower is undoubtedly an excellent option for having healthy relaxing showers...
While ensuring you put your health, vitality and energy first.
A shower head like VitaShower must be expensive?
What makes VitaShower a fantastic device is its price-quality ratio.
And let's be honest, how much are you willing to pay to have more comfort and economy in your home? Invest your time and money on what really matters in your life. VitaShower costs only $28.97 for a limited time.
We Recommend This Product!
We believe in putting your health first and finding you the best deals at incredible prices. Don't give up on comfort, excellent experiences and on buying what you want when you can find a way to save money and be comfortable at the same time.
Benefits of using VitaShower according to reviews of other clients